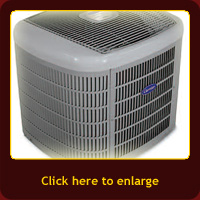 The EPA ranks indoor air pollution as one of the top five environmental dangers.
Indoor air is 2 to 100 times more polluted that that the worst outdoor air.
94% of all respiratory ailments are caused by polluted air.
Americans spend more than 90% of their time indoors.
9 out of 10 homes have a particulate problem.
Got Flu?
According to the Center for Disease Control and Prevention (CDC), the Flu Season can begin as early as October and last as late as May. The good news is that there are products available today that help reduce the risk of catching and spreading the flu.
The American Standard Accuclean is a whole-home filtration device that attaches to your existing whole-home comfort system. With an efficiency of 99.98% down to .1 microns, not only are you reducing your risk of catching the flu, but you're also capturing lots of other small allergens and harmful particles that are prone to stay airborne for long periods of time. Those small particles (the ones that you can't see) are the type that can cause the most harm to your body since they stay airborne for long periods of time.
The American Standard Accuclean has the highest clean air delivery rate (CADR) in the industry and an impressive 10 year warranty on the power-pack, 5 years on all other parts.
As an exclusive offer to our valued customers we are offering "90 days Same as Cash" on all installations of Accuclean whole-home air cleaners.
Please contact us today to get a free estimate.
HIC#: PA2113